The People Behind RadioTech™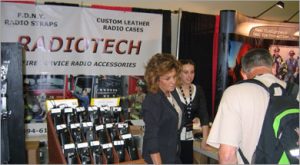 RadioTech is a family owned and operated Veteran Owned ( USMC ) business with offices and manufacturing operations throughout the East Coast. Our team includes Motorola sales and service personnel with more than 43 years of experience. Each is fully dedicated to Fire Service accessories sales and customer service. Each member of our team is trained to know both our accessory products and the radios used with those products. We take pride in our ability to help you, our client, find the right product for your unique situation.
When you contact us, whether for sales or service, you will be interacting with a person who is dedicated to serving you in the best possible way. We believe in accountability and responsibility. Each member of our team will invest the time needed to ensure that your order is handled professionally, shipped quickly and correctly. You will be updated all along the way.
RadioTech is proud to employ Americans in the creation, sales and service of products used by America's bravest men and women. From our designers and fabricators , to our sales and customer service personnel; you can be confident in supporting a small Veteran Owned business that keeps jobs local and bolsters the national economy. We believe in the quality of American-made products and stand behind each of them.
We run our business the old fashioned way. We answer every phone call and email personally, and address all items or issues of concern. We will never leave you hanging for an answer. We will always provide the right answer, even if it takes time to research.
We know that the equipment we provide is used in life-saving efforts by the finest and bravest of America's true Heroes. We do not want these First Responders to have anything less than the best that we can provide. Every member of our team is committed to providing you with the quality of workmanship that you need to save lives and keep America's families and businesses safe.
Today, approaching 30 years since our establishment, we still consider ourselves a family business. From our sales and marketing staff to product designers and fabricators, we work so closely with our team, that they are a part of our family. We are proud to have these fine people who care about our customers, business and products representing our name across the United States.