Responding to the recent demand and regulations for nighttime emergency workers to enhance their roadside visibility, RadioTech has announced new reflective fire service radio accessory products. These products use state-of-the-art 3M Scotchlight silver reflective tape, providing the owner with maximum visibility in low-light situations. Made with the quality and durability that we are known for, all of the new reflective products come with one year limited warranty for both the case and the reflective straps.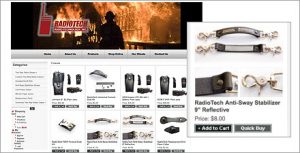 Since RadioTech's introduction of the Stabilizer strap in 2003, demand for our fire service radio accessories has grown to national levels. To best serve our customers in markets across the United States, we decided to expand and enhance the RadioTech.com website to provide more information about the company, products and customers it serves.
The newly updated site includes a geographical directory of radios for which cases and accessories are available (link to map), an expanded online store (link to store) and trade show information among other enhancements.
In addition to offering both credit card and purchase order payment options, the newly updated RadioTech store also offers custom embossing for most radio cases, to allow for customization of every order.
For more information, visit our online store or contact us today.